Patricia Briggs Frost Burned - A Mercy Thompson Novel.
I would go into more detail about why I am loving this book but as I started to tell you why I loved it - it became my book review. And I'm not ready for that yet. Just know if you like urban fantasy at all, you MUST start the Mercy Thompson series.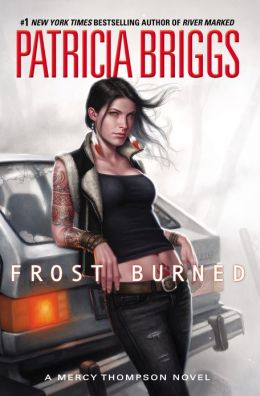 Mercy Thompson's life has undergone a seismic change. Becoming the mate of Adam Hauptman—the charismatic Alpha of the local werewolf pack—has made her a stepmother to his daughter Jesse, a relationship that brings moments of blissful normalcy to Mercy's life. But on the edges of humanity, what passes for a minor mishap on an ordinary day can turn into so much more…

After an accident in bumper-to-bumper traffic, Mercy and Jesse can't reach Adam—or anyone else in the pack for that matter. They've all been abducted.

Through their mating bond, all Mercy knows is that Adam is angry and in pain. With the werewolves fighting a political battle to gain acceptance from the public, Mercy fears Adam's disappearance may be related—and that he and the pack are in serious danger. Outclassed and on her own, Mercy may be forced to seek assistance from any ally she can get, no matter how unlikely.
It is awesome!