Welcome to the Lunar Love Giveaway Hop, sponsored by I Am A Reader, Not A Writer and Book Worm Lisa. This giveaway rules are: "Your giveaway must feature a book with paranormal, supernatural, science fiction or space travel element or a book that has something to do with the moon or has a moon on its cover."
I LOVE PARANORMAL!. So the first book that popped into my head is one of my very, very faves AND had a moon title- Book one in the Mercy Thompson series - Moon Called. It was my first Paranormal Urban Fantasy read and wouldn't you know it - I was hooked!
Mercy Thompson's life is not exactly normal. Her next-door neighbor is a werewolf. Her former boss is a gremlin. And she's fixing a VW bus for a vampire. But then, Mercy isn't exactly normal herself.


My second favorite Paranormal urban fantasy book is Kevin Hearne's The Iron Druid Chronicles. The series has witches, werewolves, vampires, druids, and the God of Thunder. What's more paranormal than that?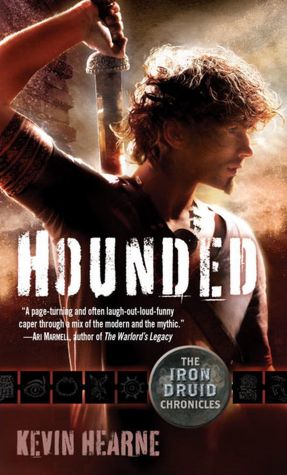 Atticus O'Sullivan, last of the Druids, lives peacefully in Arizona, running an occult bookshop and shape-shifting in his spare time to hunt with his Irish wolfhound. His neighbors and customers think that this handsome, tattooed Irish dude is about twenty-one years old—when in actuality, he's twenty-one centuries old. Not to mention: He draws his power from the earth, possesses a sharp wit, and wields an even sharper magical sword known as Fragarach, the Answerer.


Unfortunately, a very angry Celtic god wants that sword, and he's hounded Atticus for centuries. Now the determined deity has tracked him down, and Atticus will need all his power—plus the help of a seductive goddess of death, his vampire and werewolf team of attorneys, a sexy bartender possessed by a Hindu witch, and some good old-fashioned luck of the Irish—to kick some Celtic arse and deliver himself from evil.
What you win:
Two winners, your choice of Moon Called or Hounded. INTERNATIONAL OR ANYWHERE BOOK DEPOSITORY SHIPS.
Entries:
Be a follower, any type - RSS, Email, GFC, Twitter or Facebook and leave a comment telling me your favorite paranormal, supernatural or moon themed book. (leave your handle and way you follow)
Do you follow me several different ways? Then let me know, you can have a bonus entry for each way you follow - up to three extra entries.
HaPpY HoPpInG!