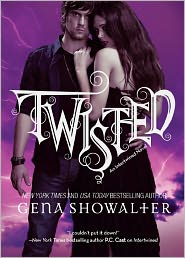 Sixteen-year-old Aden Stone has had a hell of a week. He's been:

Tortured by angry witches. Hypnotized by a vengeful fairy. Spied on by the most powerful vampire in existence. And, oh, yeah, killed—twice.

His vampire girlfriend might have brought him back to life, but he's never felt more out of control. There's a darkness within him, something taking over…changing him. Worse, because he was meant to die, death now stalks him at every turn. Any day could be his last.

Once upon a time, the three souls trapped inside his head could have helped him. He could have protected himself. But as the darkness grows stronger, the souls grow weaker—just like his girlfriend. The more vampire Aden becomes, the more human Victoria becomes, until everything they know and love is threatened.

Life couldn't get any worse. Could it?
My Thoughts:
Twisted is the perfect title for this book. Gena Showalter has literally twisted the world that Aiden lives in leaving me feeling lost, confused and a little peeved at the ending. One of the reasons I have enjoyed the series so much is because the characters are genuine. It was Victoria's tenacity, Aiden's selfless humanity, Maryann's Sincerity and Riley's fierce loyalty that originally drew me deeper and deeper into the story. Twisted breaks these characters and finds them stripped of all they trust and fight for.
For those of you that have read the first two books Intertwined and Unraveled, I would wait to read Twisted until the final book is released (untitled June 2012). Gena Showalter is a very talented author and I am certain has an incredible and shocking ending to the series planned. One that will make me want to read Twisted again because it will make more sense. I am certain Twisted is an emotional set up for book four.
I gave Twisted three skullies because I am invested in the series and I have faith that it will all make sense when I read the 4th book. What I did like was seeing the characters more subdued personality traits surface. Maryann is actually a little smart mouth and it was kind of funny. The other positive aspect of this book was finally meeting Victoria's brother.
.