Jus Accardo is the author of YA paranormal romance and urban fantasy fiction. A native New Yorker, she lives in the middle of nowhere with her husband, three dogs, and sometimes guard bear, Oswald. Her first book, Touch, is due out in November 2011 from Entangled Publishing. She is represented by Kevan Lyon of Marsal Lyon Literary Agency.
I am excited to introduce my very first author interview, Jus Accardo. Jus is the author of Touch a Denazen novel published by Entangled Publishing. Touch's official release date is in November 1, but Jus just announced that Amazon has been shipping the paperback copies early and have lowered the price from $18 to $10! So when you are done reading follow the link to the Touch amazon page and place your order. If you are a fan of YA paranormal romance, you will love Touch!
Thank you Jus for making my first interview fun and memorable. :)
Do you have any writing rituals?
Well, I have to have coffee. Lots and LOTS of coffee. I write better when
the dogs are sitting by my feet. And I absolutely have to have a separate
playlist for each character before I start. It grows and changes a bit as
I go, but I have to have it.
One of my favorite things about Touch was the vast characters and their
abilities. If you were a six what would your talent be? (Or want it to be?)
I've given this a lot of thought in the last few weeks. I really think I'd
like to have the ability to talk to animals. Id kinda love to know what
my Akita is thinking when she ís just sitting there. Staring at me. Or
maybe the power to move things with my mind. I could pull a Mickey Mouse
and clean the house while sitting at my computer working. Serious win!
How are you handling all the stress and anxiety accompanying the release
of Touch?
A lot of coffee? (Sensing a trend here?) Seriously though waiting for the
first reviews to come in was hell. It is better now, though I'm betting
I'll be jittery the night before the paperback releases. Thankfully, I
don't have a ton of free time to obsess. I've been busy working on the
second book, TOXIC, and the novella. When I do feel the stress though, I
like to run, or take the dogs into the woods behind the house for a nice
hike. The leaves are all changing and it is beautiful here.
How did you find out about the early eBook release?
My editor told me the night before. I was terrified. I hadn't planned on
dealing with release jitters for almost another month. Then, BOOM. I've
got 12 hours to get it together. It was amazing, though. The enthusiasm
and love people have for Dez and Kale and the gang give me an unbelievable
amount of warm fuzzies!
When you found out you were going to be published how did you celebrate?
I was actually wicked sick when I found out. Oddly, I was crazy sick when
I signed my agent, too. I'm not sure I like this trend
we put off any major happies until release day. My guy is taking me to
dinner, and that weekend, were having a small release party.
One of my favorite characters that I wanted more of was Dax. Did you have
a character that surprised you, that wants to be written more than the
others? (And do we get more of Dax?;-D)
OMG. You do not know how happy I am to hear you say that! I love Dax. And
if I had to pick one that surprised me, it was him. He started out as a
pass through guy and just wouldn't get out of my head. If you're a Dax
fan, you're in for some awesome surprises in book two. We learn more about
him and see a whole different side of his life.
How many books are in the series?
At the moment, 3 but there are plans for further books as long as these
do well! So far, I'm off to a good start :-) There are also two novellas
coming. The first will be out between books 1 and 2 and will be told from Kale's POV.
Do you belong to a writing/critique group?
I have a critique group. Were called the Army of Awesome and were, um,
awesome? Seriously I've got the most amazing crit partners. I'll chase
them to the ends of the earth should they ever try to leave me *evil
cackle*
How and why did you choose the name Kale and Dez?
To be blunt? Because I'm weird. I like different. Normal names are great,
but just not for me. Plus, apparently I have a thing for names beginning
with Ds and Ks. By the second draft of anything I write, inevitably a ton
of names get changed cause they all start with the same letters. It is
almost funny :-)
I really like the cover of Touch, it has cute guy without the girl
making it unique to other current releases. Did you participate in making
the cover of Touch?
The credit for having just the guy on the cover goes to my editor, Liz. At
first, I'd wanted to have both Dez and Kale on the cover. I was wrong. I
can admit it. My cover is perfect. I want to blow it up and paper my
entire house!
Do you have a regular job to support your writing hobby (now career)?
Nope. This be it for me. I happen to be extremely lucky. I'm married to
the most amazing guy in the world. He insisted I put all my time and
effort into writing (and now gloats and does the I told you so dance on a
daily basis)
Randomness:
Favorite candy?
Hershey's Kisses are the most awesome candy ever. And that is saying a lot
because technically I'm allergic to chocolate
Favorite sport?
Meh? Never been a sports fan. Does drinking coffee count as a sport? Cause
I could get behind something like that
Dance in the kitchen or at a club?
I'm wicked shy so I have to go with kitchen which stinks cause I love to
dance.
Sing in the shower or at karaoke?
Again, see shy. But really, this is a plus for the public. You do not want
to hear me sing. Glasses shatter, small children cry, and wild animals run
away howling. There is even a theory that my singing voice causes
rainstorms.
Coffee or soda?
Coffeecoffeecoffeecoffeecoffee. Oh, and soda once in awhile. And chocolate
moo.
What are you going to be for Halloween?
Sadly, I have no place to go. Anyone wanna invite me to a party? I'm shy,
but that is what Jell-O shots and dressing up is for!
This has been so much fun! Thanks for letting me hang today :-) -Jus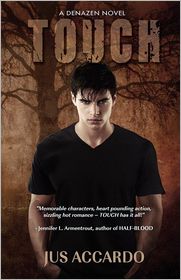 When a strange boy tumbles down a river embankment and lands at her feet, seventeen-year-old adrenaline junkie Deznee Cross snatches the opportunity to piss off her father by bringing the mysterious hottie with ice blue eyes home.Except there's something off with Kale. He wears her shoes in the shower, is overly fascinated with things like DVDs and vases, and acts like she'll turn to dust if he touches her. It's not until Dez's father shows up, wielding a gun and knowing more about Kale than he should, that Dez realizes there's more to this boy—and her father's "law firm"—than she realized.Kale has been a prisoner of Denazen Corporation—an organization devoted to collecting "special" kids known as Sixes and using them as weapons—his entire life. And, oh yeah, his touch? It kills. The two team up with a group of rogue Sixes hellbent on taking down Denazen before they're caught and her father discovers the biggest secret of all. A secret Dez has spent her life keeping safe. A secret Kale will kill to protect.
My Thoughts:
Jus Accardo writes killer chemistry with an action packed and emotional story. Touch is possibly the best read of the year for YA paranormal romance, certainly one of the best debut novels of the year.
While reading Touch I was swallowed by Dez's emotions. I felt anger that was ignited by an infuriating father and his lack of parental relationship. I wasn't just ticked off as an adult reading Touch, I was actually pissed off in a way I haven't felt since I was 16. I also felt the rush of adrenaline, laughed, smiled and shed a tear or two with Dez.
I adored Kale, the boy that showers with shoes on. He is sweet, innocent and pure in a childlike way. But he is also a lethal weapon trained to act on the commands of his authoritarian figures.
Dez is a smart mouth, street tough teen that is raising herself and a whole lot of heck for her father. But she is hiding something from him and the rest of the world. She has a secret that she discovered at a young age. It could be the one thing that brings salvation to her life and loved ones or be the thing that damns her to a life of imprisonment.
The chemistry between Kale and Dez is electric, spontaneous, sincere and impossibly perfect. I want more of them and more of the vast characters that emerge throughout the story.
Would I buy this book? Yes
Would I read it again? Already have.
Would I recommend this book for a teen? There is a sex scene, alcohol use, violence and lack of positive parental guidance. While Touch does appeal to teens, it has mature content so I would recommend it as a YA read or to mature teens.

Adults that border on liking YA may have a difficult time appreciating Touch. It is fast paced adventure and like many YA books have constant obstacles the characters must overcome to reach their goal. There is an introduction to many characters and unless you're paying attention you may miss something key to the story. I for one loved it – Touch will be in my top ten lists of favorite books this year.

Purchase Touch on Aamazon.com.
Learn more about Touch on teh following websites:
Jus Accardo
website
Goodreads
Twitter
Facebook
Thank you to Entangled Publsihing who provieded an ebook copy of Touch for a fair and honest review.